As the season readies to open, so does Berkeley's defense of their 2015 league title. With all of the other teams eager to ensure that Berkeley's reign is a short one, the Resistance will have to rely on the work ethic, team cohesion, and grit that helped make them champions last October, while developing skaters to fill voids left from the departure of skaters from last year's team.
2015 Home Record: 3-1, 1st Place
All-time League Record: 8-11
Losses: #45 Dolly Rocket, #76 Jet-I Force, #11 La Chica Mala, #50 Taxi Scab, #19 Steely Jan, #1950 Stoodie Baker, #91 Vile E. Coyote, #22 Knitorious
Additions: #1217 Chasing Amy, #701 Illuminaughty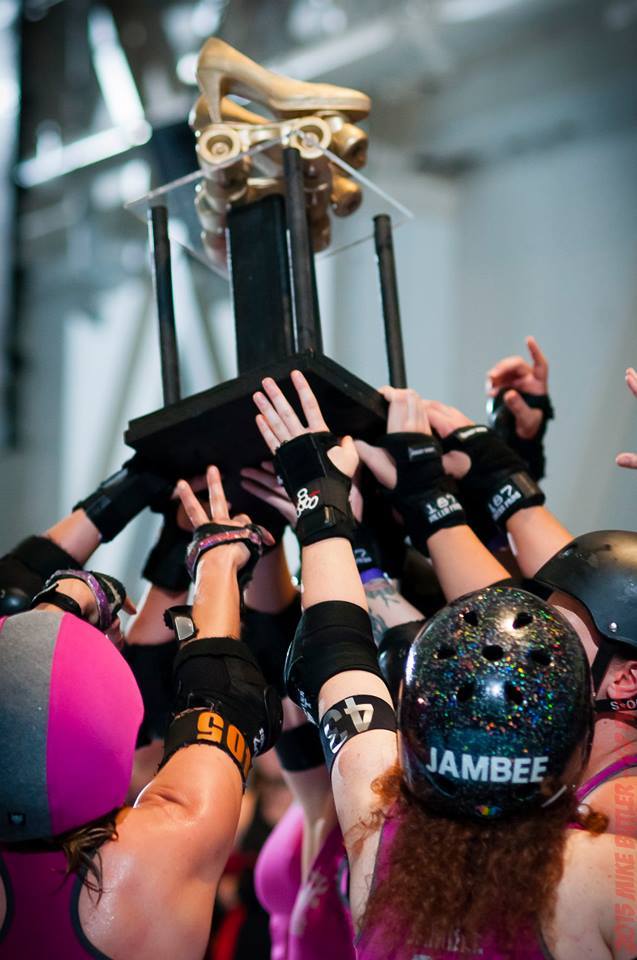 Berkeley's jamming rotation was arguably the best in the league last year, and at its core this year are savvy All-Star skaters, Brawllen Angel and Frightmare, who never shy away from having the star on their head (and more often than not they get results). When you add the potential that Shenghis Kahn and Chasing Amy bring, replacing the recently retired Steely Jan, it seems Berkeley won't have any problem scoring points.
However, jammers don't win games without help. With Frightmare joining Dirty Lil Trick (also known as Sasha Fierce or even Broseph) as Berkeley coach for the first year, we are excited to see how the Resistance's new leadership addresses the team overall. Frightmare shed a little light on their approach this season saying, "We're constantly working on shaping the team as a whole instead of relying on a few key players." Both coaches realize they will be able to depend on returning stalwarts like Gretchen Vomette, who is a strong blocker who skates with the Bay Area All-Stars, comfortable and capable as a pivot, and doesn't shy away from the jamming rotation when relief is necessary, and Jambee, the embodiment of the Resistance's team mentality, a tenacious and determined blocking force on the track while still being all about the love and rarely without a smile on her face.
The team is betting the keys to repeating their championship are depth and developing the talent of the team as a whole. According to Dirty, "(hopes are) that April Bloodgate, Pomba, and Foxy Throwdown are able to step into bigger roles this season," filling the void left by retiring skaters. Frightmare shares similar sentiments, "We're taking it [this season] as an opportunity to build up the rest of the team. More than ever, we're going to focus on team cohesion and complementing each other on the track, working together, and encouraging everyone to step it up." Joss Hole, KillA Beezy, Mad M. Barbrawl, and Illuminaughty fill out this season's ranks.
"More than ever, we're going to focus on team cohesion and complementing each other on the track, working together, and encouraging everyone to step it up."
When it comes to tough competition, Frightmare believes, "we have so much exciting competition within our league that you never really know which home team will take it all!"  But we got down to it and discovered Dirty's main fear for 2016. Oakland Outlaws. The 2015 second-place Oakland Outlaws will be keen on taking the crown. But before the Resistance-Outlaws rematch, Berkeley faces the Richmond Wrecking Belles at our home-team season opener on March 26th at the Craneway Pavilion. Berkeley is on top right now, but there's always farther to go, as a recent loss to the 2015 WFTDA D2 Champions, the Sacred City Sacrificers, starkly illustrates. If Berkeley is to stay the BADdest at BAD, it will be because of their commitment to maintaining positive attitudes and enjoying each other on and off the track.
---
 #23 April Bloodgate || #888 Brawllen Angel || #1217 Chasing Amy || #405 Dirty Lil Trick || #10 Foxy Throwdown || #31 Frightmare || #86 Gretchen Vomette || #701 Illuminaughty || #43 Jambee || #4 Joss Hole || #137 KillA Beezy || #30 Mad M. Barbrawl || #242 Pomba || #434 Shenghis Khan