2019 Oakland Outlaws Team Photo by Jordan and Charley Jurich-Weston.
Team Story
You know those kids who used to cut class every day? Who practically lived in detention? Who smoked behind the bleachers and talked smack to anybody? Back in the day, those kids would tell you their credo: Nothing matters. Break rules. Live fast, die young, leave a good-looking corpse.
Guess what? Those kids grew up. But they never did figure out how to fit in. They couldn't shake that outlaw attitude. So they strapped on skates, knee pads, and helmets, and they channeled their anger into big hits on the track. Now ask any one of these Outlaws for their credo, and they'll tell you: Skate fast, hit hard, and win a good-looking trophy.
Oakland Outlaws Alumni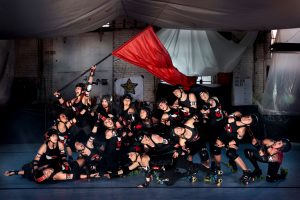 2019 Outlaws
Blood Sweat and Ears – Bent Burns – Dreadzilla – Eris Jordan – Esteemed Bun Bun – Foxosaurus – Greer Factor – Grim Reeba – Hieronymus Bash – Legs//Cité – Lethally Blonde – Luna Shovegood – Maya – Ripley Effect – Snatch – Spiller
2019 Home Team Record: 3-0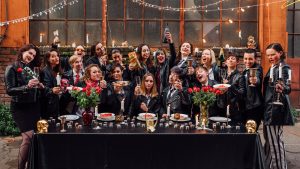 2018 Outlaws
Amy Avishay- April Bloodgate – BangShe – BB Basher – Bent Burns – Blood Sweat and Ears – Dirty Lil Trick – Dreadzilla – Eris Jordan – Esteemed Bun Bun – Greer Factor – Hieronymus Bash – Illuminaughty – Kimfectious – Legs//Cite – Lethally Blonde – Ovary-Z – Reeba – Ripley Effect – Snatch – Spiller
2018 Home Team Record: 3-0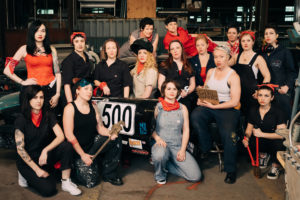 2017 Outlaws
Ames to Maim – ButtN MashHer – Dreadzilla – Esteemed Bun Bun – Huck Sinn – Imelda Snarkos – Jane Hammer (Bench Coach) – Lethally Blonde – Mary Prankster – Murderyn Monroe – Pizza Party – Raven Evergore – Red Card – Sinnabar – Smother Mary
2017 Home Team Record: 0-1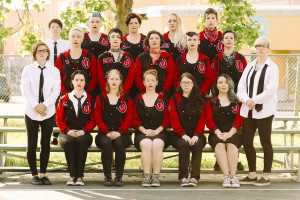 2016 Outlaws
Ames to Maim – Bella Bomber – Bully Elliot – Chop Ramen – Dreadzilla – Dual Hitizen – Esteemed Bun Bun – Huck Sinn – Imelda Snarkos – Jane Hammer – Mary Prankster – Murderyn Monroe – Pizza – Red Card – Val Hella – Vee
2016 Home Team Record: 3-1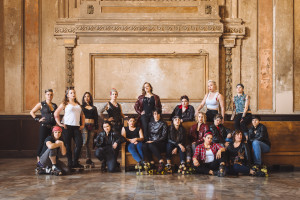 2015 Outlaws
Amber Dextrous – Bella Bomber – Bully Elliott – Colt 45 – Dual Hitizen – Esteemed Bun Bun – Fatal Dreidel – Hazel Raw – Huck Sinn – Imelda Snarkos – Jane Hammer – Killer Vee – Mary Prankster – Murderyn Monroe – Pain Galaura – Scratcher in the Eye – Sheer Luxe – Strawberry Killz – Val Hella
2015 Home Team Record: 3-1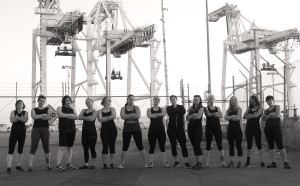 2014 Outlaws
Amber Dextrous – Bricktator – Cass Warfare – Cat Scrap Fever – Dorato (c) – Esteemed Bun Bun – Fatal Dreidel – Hazel Raw – Home-O-Wrecker – Huck Sinn – Imelda Snarkos – Jane Hammer – Killer Vee – Murderyn Monroe (c) – Pain Galaura – Sheer Luxe – Strawberry Killz – Thrasher – Val Hella
2014 Home Team Record: 2-2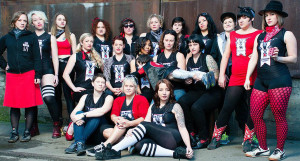 2013 Outlaws
Bonnie Doom – Bricktator – Cass Warfare – Cat Scrap Fever – dolly deathrow pardon – dorato – Esteemed Bun Bun – Fatal Dreidel – Hazel-Raw – Huck Sinn (c) – Home-O-Wrecker – Jane Hammer – Killer Vee – Minnie Peril – Murderyn Monroe (c) – Pain GaLaura – Sheer Luxe – Sinnocent – Strawberry Killz – – ThrasherNova – Tippa D. Iceberg
2013 Home Team Record: 4-0 (BAD Champions)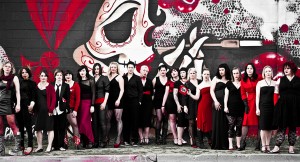 2012 Outlaws
Bonnie Doom – Bricktator – Bambina – Cass Warfare – Cat Scrap Fever – dolly deathrow pardon – Fatal Dreidel – Hazel-Raw – Huck Sinn – Home-O-Wrecker – Ivy Profane (c) – Jane Hammer (c) – Lethally Blonde – Minnie Peril – Murderyn Monroe (c) – Penny McSquish – Postal Servix – Sheer Luxe – Sinnocent – Esteemed Bun Bun – Tippa D. Iceberg
2012 Home Team Record: 0-3
2011 Outlaws
Bobkat – Bonnie Doom – Chesty Gillespie – dolly deathrow pardon – Frank n Hurter (c) – Fatal Dreidel – Hazel-Raw – Huck Sinn – Ivy Profane – Jack Dup – Jinjur'n Wry – Lethally Blonde – Minnie Peril (c) – Murderyn Monroe – P.B. Arson – Penny McSquish – Polly Puredread – Shivas Regal – Tippa D. Iceberg
2011 Home Team Record: 1-2