Richmond ended the last season 1-3, their only win being the final game of the 2015 season. By emphasizing teamwork and unity – a theme that will be reflected in both lineups as well as strategy – the Richmond Wrecking Belles are looking to improve their record in 2016.
2015 Record: 1-3, 3rd place
All-time League Record: 21-7
Losses: #140 Abominatrix, #11 Angel Maker, #238 Baron von Punchausen, #10 Thin Lizzy, #T2 T-Wrecks
Additions: #44 BamBam Booty Slam, Brooklyn Defiance, #4 Mad 4 Gravy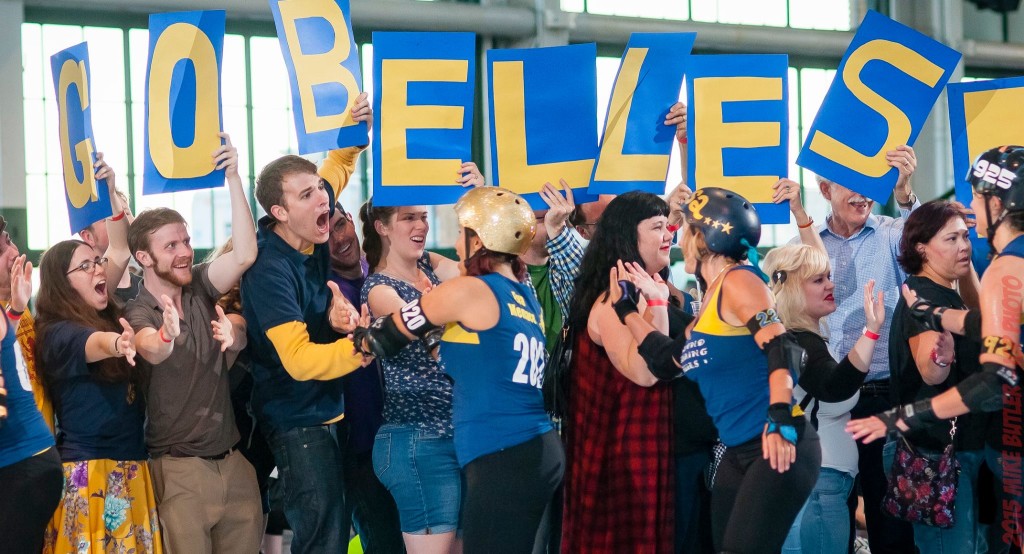 For long-time Belles fans, this season's roster will look a little different. Abominatrix, Thin Lizzy, and T-Wrecks retired from the team at the end of last season and while their absence will shake up the jammer rotation and blocking line-up, returning players – blockers and jammers alike – will still be tough enough to fight off their opponents.
"This season we're changing up or our bench structure, which makes our jammer line more fluid," coach Skatelyn said.
All-Star jammers, Eva Menace and Skrappie, return with up-and-comer Snide Boob hot on their wheels. "They are all looking fiercer than ever," Skatelyn added.
The Belles' blocker line is adjusting to some early-season injuries that have rendered All-Star pivot/jammer Demanda Riot, newcomer Brooklyn Defiance, and returning member, Chiquita Bonanza, sidelined for an undetermined amount of time.
Notable blockers and new to the All-Star team this year, Sterling Archer and Biggie Brawls, along with Team Gold member Mad 4 Gravy (a mid-2015 addition to the Belles from Silicon Valley Roller Girls) will join long-standing veterans Jirsa (formerly Little Miss Masochist), Kutya Cackoff, Liza Machete and Skatelyn in holding down the Belles' defense. A few of the aforementioned skaters will also don the pivot and maybe even receive the star pass this season!
BamBam Booty Slam, a transfer from the Undead Bettys, has been seamlessly absorbing the team's track presence as a new blocker for the Belles.
Overall, the focus for the Belles this year is cohesion. Players are continuously honing their roles. According to Skatelyn, "Sterling Archer is our strongest on-track communicator, with her confidence in strategy quickly growing, she has been a great blocker QB [quarter-back] this season."
And newbies are showing early promise, Skatelyn added, noting the team's newest draft picks "all have strong skills with even greater potential for growth."
"All have strong skills with even greater potential for growth."
Prepped for a great season, Richmond will take on the Berkeley Resistance in the first home team double header of the season on March 26 at 7:00 pm.
---
 #44 BamBam Booty Slam || #77 Biggie Brawls || Brooklyn Defiance || #323 Chiquita Bonanza || #000 Demanda Riot || #13 Dita de los Muertos || #23 Diva Negativa || #20 Eva Menace || #2 Kutya Cackoff || #22 Jirsa || #1 Liza Machete || #4 Mad 4 Gravy || #36 Skatelyn || #5 Skrappie || #8 Snide Boob || #925 Sterling Archer || #512 Val Curry