2019 Oakland Outlaws Team Photo by Jordan and Charley Jurich-Weston.
Team Story
In a land that's legend as the hub of commerce and transportation, economic gain and national pride, Oakland has come under attack. The long-lived glory days of the Gold Rush and Transcontinental Railroad have come to a screeching halt. Tarnished and staled are the days when our cups runeth over; closed are the doors of endless opportunity; and the boom of economic progress has slowly but surely been stifled.
The divide between the "Haves" and "Have Nots" has steadily pushed the once kind and neighborly population into the dark recesses of the city. When backed into a corner, what options are left? No longer content to turn a blind eye, to live and let live, people began taking matters into their own hands. Chaos became law.
Angels were sent straight from the fiery pits of Hell. Rolling on two wheels they didn't delve in mercy or blessings. Instead they became the silent silent-partners, they mired themselves in the blackening underbelly of this once beautiful city. Within the choking-hold of this regime, whispers began passing from mouth to mouth. Slowly, ladies of the day were leaving their pie plates in the cupboard, their heels in the closet, their bridge tables lonely, and their garters high on their thighs. The weight of the city's hope pressed upon these women, and they carried their newfound responsibility solidly in their bosom.
There was another player hitting the streets. Like a shadow trying to be pinned down, this untamable entity seemed set on righting the wrongs that had come to define this city. It's said that with eight wheels a rollin', hugging the turns of danger, and staring down the throat of evil, these women dismantled the subversive powers-that-be block by block. No law force could get ahead of these rolling banshees, no criminal master-mind dared stand in their way.
Moving faster, drinking harder, and hitting with the power of vengeance this svelte group became the beacon of hope. Promises of a better tomorrow began making their way to the surface, being born of one collective conscious – the Oakland Outlaws. Restoring the fabric of their city, the Oakland Outlaws challenges any cigar puffing, moustache-twirling criminal to fight for the right to lay claim on this land.
As challenges come from near and far, from the living and the un-dead, from peace-lovers to notorious wreckers, the Oakland Outlaws will meet their rivals on the track not with a whimper, but with a bang.
Oakland Outlaws Alumni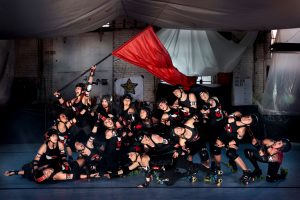 2019 Outlaws
Blood Sweat and Ears – Bent Burns – Dreadzilla – Eris Jordan – Esteemed Bun Bun – Foxosaurus – Greer Factor – Grim Reeba – Hieronymus Bash – Legs//Cité – Lethally Blonde – Luna Shovegood – Maya – Ripley Effect – Snatch – Spiller
2019 Home Team Record: 3-0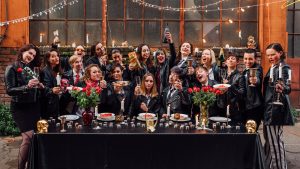 2018 Outlaws
Amy Avishay- April Bloodgate – BangShe – BB Basher – Bent Burns – Blood Sweat and Ears – Dirty Lil Trick – Dreadzilla – Eris Jordan – Esteemed Bun Bun – Greer Factor – Hieronymus Bash – Illuminaughty – Kimfectious – Legs//Cite – Lethally Blonde – Ovary-Z – Reeba – Ripley Effect – Snatch – Spiller
2018 Home Team Record: 3-0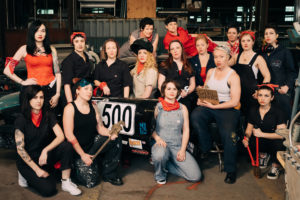 2017 Outlaws
Ames to Maim – ButtN MashHer – Dreadzilla – Esteemed Bun Bun – Huck Sinn – Imelda Snarkos – Jane Hammer (Bench Coach) – Lethally Blonde – Mary Prankster – Murderyn Monroe – Pizza Party – Raven Evergore – Red Card – Sinnabar – Smother Mary
2017 Home Team Record: 0-1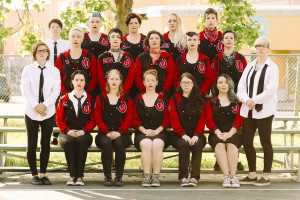 2016 Outlaws
Ames to Maim – Bella Bomber – Bully Elliot – Chop Ramen – Dreadzilla – Dual Hitizen – Esteemed Bun Bun – Huck Sinn – Imelda Snarkos – Jane Hammer – Mary Prankster – Murderyn Monroe – Pizza – Red Card – Val Hella – Vee
2016 Home Team Record: 3-1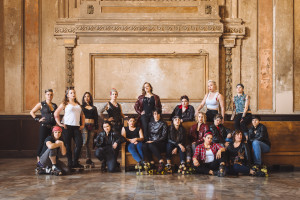 2015 Outlaws
Amber Dextrous – Bella Bomber – Bully Elliott – Colt 45 – Dual Hitizen – Esteemed Bun Bun – Fatal Dreidel – Hazel Raw – Huck Sinn – Imelda Snarkos – Jane Hammer – Killer Vee – Mary Prankster – Murderyn Monroe – Pain Galaura – Scratcher in the Eye – Sheer Luxe – Strawberry Killz – Val Hella
2015 Home Team Record: 3-1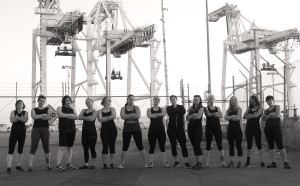 2014 Outlaws
Amber Dextrous – Bricktator – Cass Warfare – Cat Scrap Fever – Dorato (c) – Esteemed Bun Bun – Fatal Dreidel – Hazel Raw – Home-O-Wrecker – Huck Sinn – Imelda Snarkos – Jane Hammer – Killer Vee – Murderyn Monroe (c) – Pain Galaura – Sheer Luxe – Strawberry Killz – Thrasher – Val Hella
2014 Home Team Record: 2-2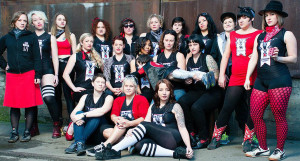 2013 Outlaws
Bonnie Doom – Bricktator – Cass Warfare – Cat Scrap Fever – dolly deathrow pardon – dorato – Esteemed Bun Bun – Fatal Dreidel – Hazel-Raw – Huck Sinn (c) – Home-O-Wrecker – Jane Hammer – Killer Vee – Minnie Peril – Murderyn Monroe (c) – Pain GaLaura – Sheer Luxe – Sinnocent – Strawberry Killz – – ThrasherNova – Tippa D. Iceberg
2013 Home Team Record: 4-0 (BAD Champions)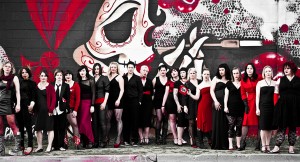 2012 Outlaws
Bonnie Doom – Bricktator – Bambina – Cass Warfare – Cat Scrap Fever – dolly deathrow pardon – Fatal Dreidel – Hazel-Raw – Huck Sinn – Home-O-Wrecker – Ivy Profane (c) – Jane Hammer (c) – Lethally Blonde – Minnie Peril – Murderyn Monroe (c) – Penny McSquish – Postal Servix – Sheer Luxe – Sinnocent – Esteemed Bun Bun – Tippa D. Iceberg
2012 Home Team Record: 0-3
2011 Outlaws
Bobkat – Bonnie Doom – Chesty Gillespie – dolly deathrow pardon – Frank n Hurter (c) – Fatal Dreidel – Hazel-Raw – Huck Sinn – Ivy Profane – Jack Dup – Jinjur'n Wry – Lethally Blonde – Minnie Peril (c) – Murderyn Monroe – P.B. Arson – Penny McSquish – Polly Puredread – Shivas Regal – Tippa D. Iceberg
2011 Home Team Record: 1-2