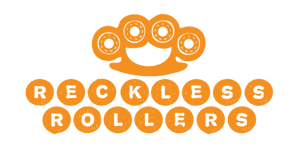 Reckless Rollers, Bay Area Derby's premier recreational skating program, offers the camaraderie and excitement of derby, without the time or financial commitment required of our league skaters. Newer skaters are afforded the opportunity to get their foot in the door and become a full league member by participating in quarterly transfer evaluations and yearly tryouts. Even skaters who only occasionally attend are welcome, as Reckless also offers a great networking environment for like-minded Bay Area skaters.
Reckless Rollers hold practices on weekday evenings and Sunday afternoons (practice days/times are subject to change). Membership is available via a variety of rate options:
2017 Pricing Specials
1 session for $10
5 sessions for $40 (save $10)
Unlimited sessions for $75 per month (most savings!)
Reckless Rollers is open to adult females who are at least 18 years old, and interested in learning how to play Women's Flat Track Roller Derby. To skate with Reckless, you must have a full set of protective gear: quad skates, knee pads, elbow pads, wrist guards, helmet, and a mouth guard. In order to skate with Reckless Rollers we ask that you be comfortable on skates, meaning you don't need anyone to assist you with skating around the track. Brand new skaters should check out boot camps offered by surrounding leagues, open sessions at skating rinks, and the Bay Area's numerous outdoor trails until they are able to join RR.
Interested? Register using the form below or open the online registration form in a new window. 
Please plan to arrive 15 minutes early to your first practice so we can find someone to show you the ropes on your first day. While we prefer pre-registration, drop-in visitors are welcome. Please note that online prices are not available in person, so each drop-in visit will be charged as a single session. If you do not have WFTDA insurance, we ask that you sign an insurance release/waiver at your first practice. Continued Reckless participation requires proof of WFTDA insurance, which may be purchased directly through the WFTDA website.
Connect with other skaters in our Facebook group
Questions? Email recklessrollers@bayareaderby.com
Get started by registering via the form below. Or open the online registration form in a new window.