Coming from an array of backgrounds, these announcers all have unique styles and a lot of knowledge about roller derby. They like to talk about derby. Some of them even play(ed) derby. Without further ado, we're excited to shed some spotlight on the mouths behind the mic for this year's Golden Bowl.
MISS MOXXXIE
(Tournament Head Announcer, Bay Area Derby)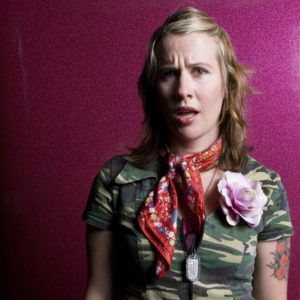 Mox is an original member of BAD and is proud to have skated with the San Francisco ShEvil Dead, the Bay Area All-Stars, and Team Cruz. Though Mox is now derby-retired and has made the seemingly inevitable switch from whiskey to rosé, she still knows how to let the good times roll.
SEXY BEAST
(Bay Area Derby)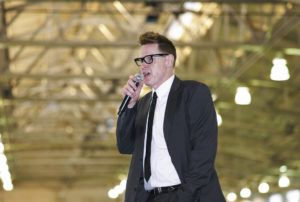 Bay Area Derby Announcer, Emeritus Official, Full Access, Zero Accountability. He was born talking like this. He describes what everyone just saw with their own eyes and is thereby held in high esteem by his peers.
EVA MENACE
(Bay Area Derby)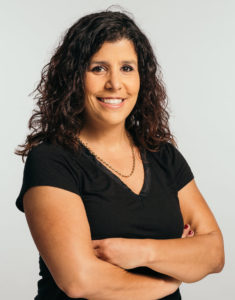 In her sixth season as a Richmond Wrecking Belle and third season as a jammer on the Bay Area All Stars, Eva is excited to now add announcing to her repertoire. The 2017 Golden Bowl will serve as her second time on the mic.
T. WRECKS
(Bay Area Derby)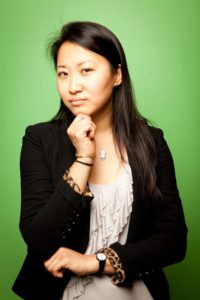 Wrecks skates with BAD's Richmond Wrecking Belles and Team Korea. She has a big mouth/loud voice. Most of the time this gets her into trouble, so she's grateful for an outlet where those two assets are treasured.
KIMFECTIOUS
(Bay Area Derby)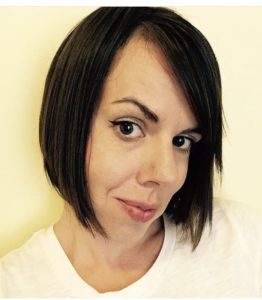 Kimfectious has skated with BAD, SVRG and RMRG. As a stand-up comedian, announcing is the marriage of both her favorite things: roller skates and talking into microphones.
JANE HAMMER
(Bay Area Derby)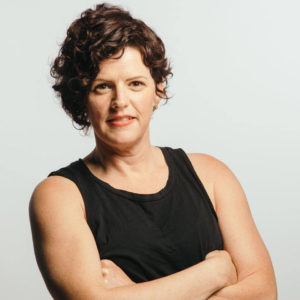 Hammer is a recently retired BAD skater who got tired of keeping up with the youngsters. While playing derby, Hammer donned black and gold for the All Stars and will always be an Oakland Outlaw at heart.
OCTOBER REVOLUTION
(North Star Roller Girls)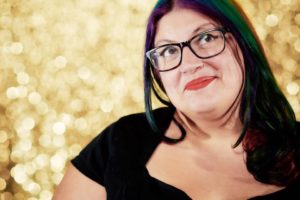 After four years as an NSO, Tober took up space behind a microphone and hasn't stopped rambling since. A true narwhal, she resides in Minneapolis, MN as a member of the North Star Roller Girls' board of governors. Though her spare time is limited, it is mostly filled with sitting in the sun, drinking gin, and reading anything with words on it.
CHLOROFORM CUPCAKE
(Sin City Rollergirls)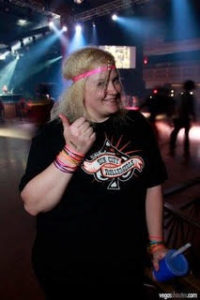 Chloroform Cupcake, aka Cakes, has been a traveling announcer for the past five years and considers herself a 'rum-person'. Cakes has moved from Sin City Las Vegas territory to the Midwest Chicagoland MRDA and WFTDA region. After 7 years of roller derby experience, Cakes looks forward to being bi-coastally educated.
MAIMY THIGHSENHOWER
(Peninsula Roller Girls)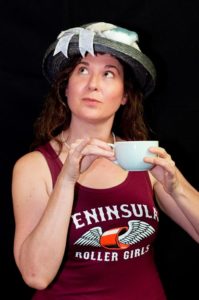 Maimy is both Head Announcer and Head NSO for Redwood City's Peninsula Roller Girls, and you guys, she is so tired. She comes to derby with over 20 years of experience in MCing and improvisational comedy. She's making a real effort to not swear over the mic this time.
NIKKI NIGHTMARE
(Sac City Rollers)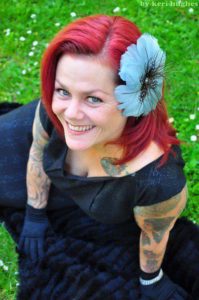 Nikki started playing derby in 2006 with the Sac City Rollers. After a knee injury in 2008, she stopped competing and became a coach and ref. Nikki started announcing in 2009 and has served as head announcer for the Dustbowl Tournament as well as Sac City's Red Red Holiday. She loves talking derby!
LAWRENCE OF A LABIA
(Sana Cruz Derby Girls)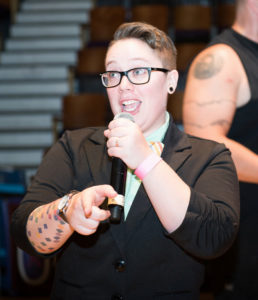 Lawrence of a Labia is your friendly neighborhood lesbro. She first picked up the mic three years ago for a bunch of dirty hippies playing derby at Burning Man and has been calling the game for Santa Cruz and leagues around the Bay Area ever since. Give her a whiskey and she'll tell you a dirty joke.