As the 2017 BAD home team season commences, the Oakland Outlaws' "#girlgang" motto is in full effect as veteran coaches prepare to "bring on and bring up" their recent draftees.  The new roster additions provide raw talent to the Outlaw family whose team goals for 2017 include winning, training, and skating 110%—while mixing in comedy and laughs!
2016 Record: 3-1
All-time League Record: 19-14
Player Losses: #5678 Bully Elliott, #72 Chop Ramen, #29 Dual Hitizen, #40 Val Hella, #33 Vee, #777 Jane Hammer, #82 Brute E. Pie
Player Additions: #85 ButtN MashHer, #45 Lethally Blonde, #49 Raven Evergore, #246 Sinnabar, #313 Smother Mary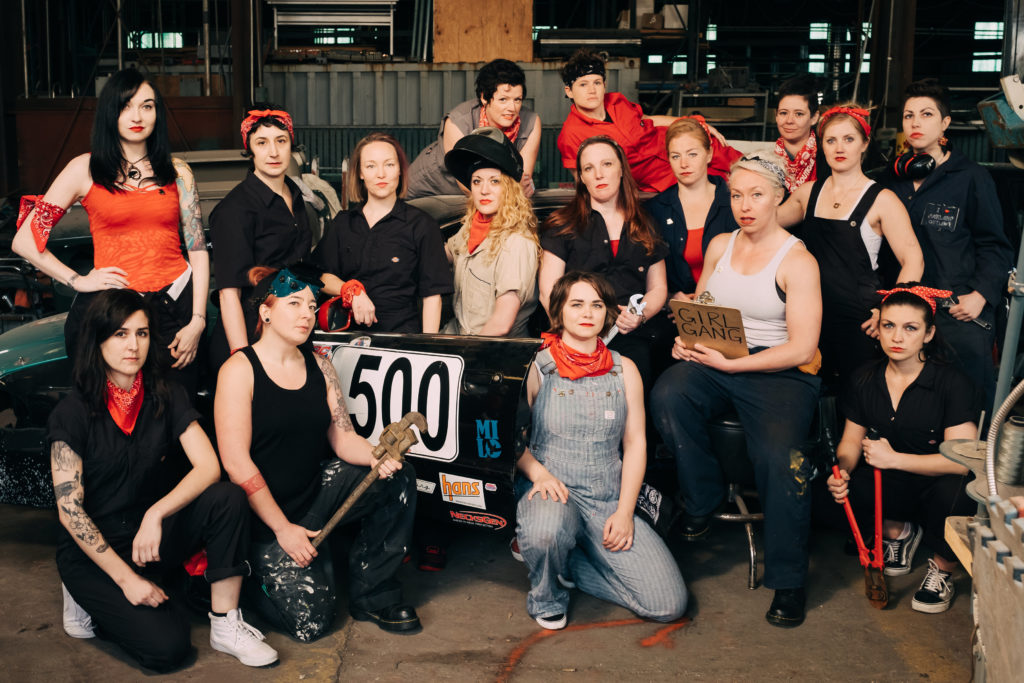 Coach Huck Sinn notes, "it is always rewarding to be part of a teammate's first year with the Outlaws—to experience the pride and bonding within the team as the season unfolds.  The Outlaws' 2017 goals are to tailor the game focus around the new squad.  The Outlaws are known as the team who raises the bar together, achieves goals set together all with accountability. . .together."
Roster additions include:  Raven Evergore, a recent transfer from Rat City, bringing a high level of game play with a passion for margherita pizza.  Sinnabar demonstrating tenacity and drive.  Butt'N MashHer and Smother Mary both bringing new energy.  Rounding out the draft is the uplifting Lethally Blonde, rejoining the Outlaws after a four season hiatus.  The stars have finally aligned for veteran BAD skater, Huck Sinn, allowing her to shift from jamming and introduce her alter-ego "Tiger Beat" as a blocker for the 2017 home team season.
Coach Bunn reinforces the newness of the team by stating, "roster turnover is exciting, allowing veteran skaters the chance to mentor new skaters allowing empowerment within the team to work together and lead by example."  The 2016 Outlaw roster losses include:  Bully Elliott, Chop Ramen, Dual Hitizen, Val Hella, Vee, and most noticeably Jane Hammer.
"Losing Jane Hammer as a key blocker for the Outlaws is a huge loss on the track.  Hammer, a founding member of the Outlaws, provided an amazing sense of calm on the track,"  according to Huck. The good news is that Hammer will anchor the team from the sidelines as their bench coach and help support growth of the new Outlaws.
The Oakland Outlaws play their first game of the year against San Francisco ShEvil Dead at the BAD Season Opener March 18 at the Station (historic 16th Street Station) in Oakland.
---
#7 Murderyn Monroe || #10 Huck Sinn || #27 Red Card || #42 Esteemed Bun Bun || #45 Lethally Blonde ||  #49 Raven Evergore || #63 Imelda Snarkos  || #64 Mary Prankster || #85 Butt'N Masher || #99 Pizza Party || #215 Isabella Bruisellini || #246 Sinnabar || #313 Smother Mary || #333 Dreadzilla || #410 Ames to Maim || Bench Coach: Jane Hammer