Despite unfortunate player injuries and mid-season retirements, the Berkeley Resistance persevered with a smaller roster and took the title of BAD Season Champs for the second year in a row. In 2016, skaters stepped into new roles and pushed themselves individually. In 2017, the team plans to build upon those skills and hone a team culture filled with hard work and derby love. One thing is for certain– no one is underestimating Berkeley this year.  
2016 Home Record: 3-1, 1st Place
All-time League Record: 11-12
Player Losses: #4 Joss Hole, #10 Foxy Throwdown, #30 Mad M. Barbrawl, #31 Frightmare, #43 Jambee, #137 KillA Beezy
Player Additions: #13 Stef Mainey, #707 Killer Kapowski, #785 Yosemighty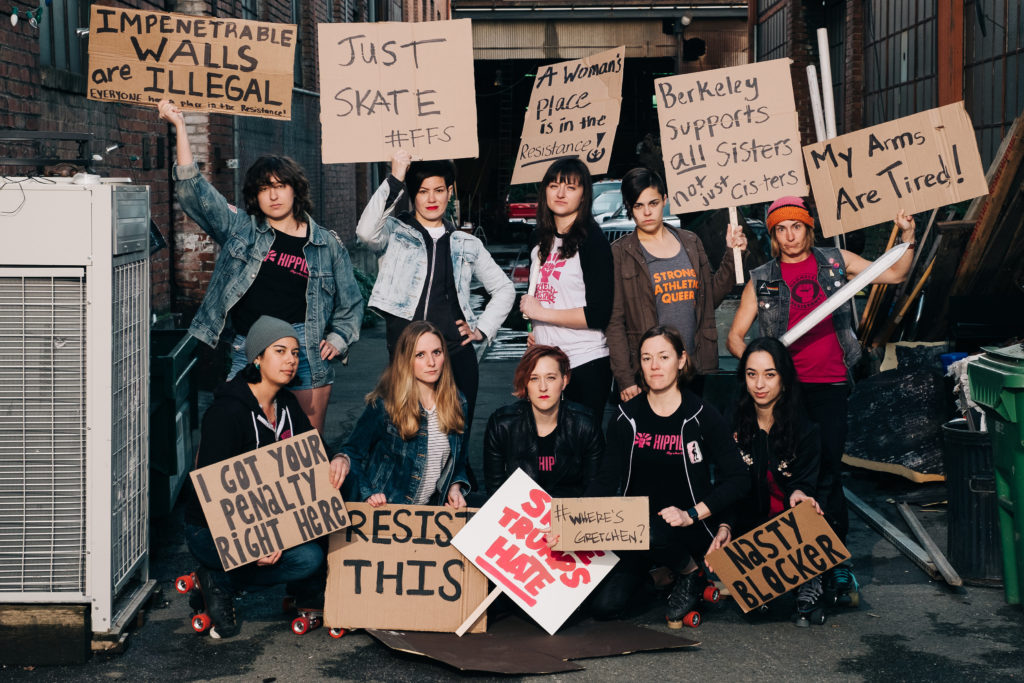 Berkeley saw a few changes in their 2016 roster, including the loss of six skaters. Due to commitments outside of derby (there's life outside of derby?) longtime Berkeley skaters, Joss Hole and Mad M. Barbrawl, both took leaves of absences which transitioned to retirements. The ever acrobatic and smiley blocker, Jambee, took some time away from roller derby to focus on other pursuits. Foxy Throwdown and KillA Beezy, two tall blocking forces, also took their BAD departure after the 2016 championship. The Resistance's only hit to their jammer rotation was losing Frightmare, former Berkeley coach, first to a mid-season injury last year and then, this year, to ShEvil Dead. According to Dirty Lil Trick, "Frightmare is Dead to us." #dadjoke
This year, co-coaches Pomba and Dirty Lil Trick plan on leading the team to a third successive league championship by pushing the team to new heights with advanced strategy while reinforcing the importance of fundamentals and team culture which the Resistance spent the past few years developing. That means fans will still see unrelenting defensive packs led by pivots, Pomba and Dirty Lil Trick, rounded out with solid blockers such as veteran Gretchen Vomette, Shenghis Khan, Illuminaughty, Rosie Cheeks, and Hines. Stef Mainey, new to BAD but not new to derby (so we've heard), joins the Resistance as a blocker who could possibly don the pivot or jammer hat if needed. Killer Kapowski is also a new addition to the team and while she may not be as experienced she makes up for it with determination, hard work, and an eagerness to learn.
The usual three pink-clad suspects will be wearing the star: experienced and powerful seam buster Brawllen Angel, wily and constantly evolving April Bloodgate, and ever patient and sneaky Chasing Amy. New draftee Yoesmighty is joining Berkeley's jammer rotation and will no doubt pick up some tips and tricks from her talented teammates.
Despite not even filling out a full game roster of fourteen skaters, the Berkeley baker's dozen is a strong team jam-packed with skill and determination. "This group feels like family and we all skate for each other," Pomba confirms. Continuing a trend from years past, the Resistance does not believe they have one star player but rather their success is drawn from each and every player who brings something different to the track. Their individual skills cannot be denied but the team focuses on working as a cohesive unit.
The Berkeley Resistance is putting plenty of track time in before their first BAD game for the 2017 team to gel. March 11, they traveled to Santa Cruz to take on the Boardwalk Bombshells and April 8-9 they can be seen in down in LA playing three games in Angel City's Tinseltown Showdown. They play the Richmond Wrecking Belles in a closed bout at BAD HQ on April 22 which fans can follow along via BADtv or Twitter.  Come out and cheer for Berkeley at their next public bout on May 13 against the Oakland Outlaws at the Station. Check out the discounted BAD Deal which gets you general admission access to all remaining games at the Station (Oakland) AND Champs at the Craneway Pavilion (Richmond).
---
 #6 Rosie Cheeks || #13 Stef Mainey || #23 April Bloodgate || #57 Hines || #86 Gretchen Vomette || #242 Pomba || #405 Dirty Lil Trick || #434 Shenghis Khan || #701 Illuminaughty || #707 Killer Kapowski || #784 Yosemighty || #888 Brawllen Angel || #1217 Chasing Amy