Bay Area Derby's winningest team, the Richmond Wrecking Belles, can look back on their last two seasons as a 24 month blip on an otherwise victorious timeline that has included dizzying heights of derby awesomeness and the most league championships in Bay Area Derby's history. Despite only winning four league games the last two seasons, fans of the blue and yellow have something to be excited about with improvements to Richmond's roster which will most certainly position them as a prominent player in the 2017 BAD home season.
2016 Record: 2-2, 3rd place
All-time League Record: 23-9
Player Losses: #44 BamBam Booty Slam, #77 Biggie Brawls, Brooklyn Defiance, #23 Diva Negativa, #2 Kutya Cackoff, #36 Skatelyn, #5 Skrappie
Player Additions: #12 T. Wrecks, #747 Snakes Anna Plane, #44 The 4Closer, #67 Rose Villain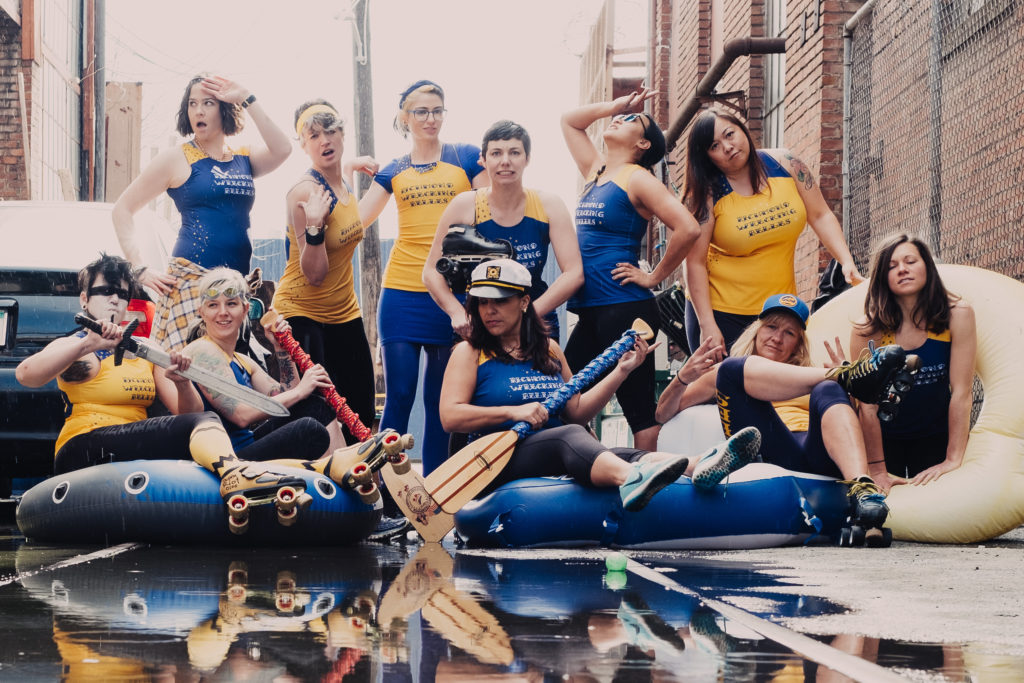 The end of last season was the off-ramp for seven Wrecking Belles, including five Richmond legends: original BAD Girl Diva Negativa hung up her skates after ten seasons, All-Star and Richmond jamming phenom Skrappie headed off to medical school, the indomitable Biggie Brawls drew up plans to complete her architect licensing, the notoriously devastating Kutya Cackoff craft brewed her dream job in Hawaii, and feisty pivot Skatelyn has decided to take her derby journey travel team only. These losses could have been a significant setback for the Wrecking Belles, but the derby gods had some surprises in store for Richmond in the form of three amazing off-season transfers and the return from retirement of one extra special, glittery player.
On the offensive side of the roster, Richmond is excited to welcome back fleet-footed jammer Lex Pistol. Bay Area All-Star and veritable force of nature Eva Menace returns to the jammer line for the Belles, and fans and opponents alike should watch out for the crafty and cat-like moves of Snide Boob when she's donning the star. These three jammers plus a few additions promise to return Richmond's offense to the high scoring enterprise longtime Wrecking Belles fans have come to expect.
Defensively, the Belles are beyond excited to welcome back an icon of roller derby–absent for most of the 2016 season due to injury–with Demanda Riot on the track, time's up for the opposition. Joining her on the line for her eleventh season with Bay Area, the experienced and blocking terror Liza Machete is back under the pivot cap to stifle jammers and wreak general havoc for opponents. Versatile Richmond defenders, co-captain Chiquita Bonanza and Jirsa, transform blocking to a fine art, and look for Mad 4 Gravy to bring the pain with a side of neon sizzle in her fashion. Rounding out Richmond's returning roster are the methodical and calculated co-captain Sterling Archer and Moxi Skate Team standout Dita de los Muertos.
Fates have conspired to also drop three prime off-season transfers plus the return of a Richmond alumnus onto the 2017 Wrecking Belles. Back for more fun after taking a season off, T. Wrecks returns complete with cat memes and a not-so-subtle defensive style. Snakes Anna Plane, transfer from Humboldt Roller Derby, is excited to bring high flying terror to her opponents and, in a complete coup for Richmond, two legends of California roller derby from Sacred City Derby Girls add their experience to an already enviable roster – the stalwart blocker Rose Villain and the astounding and prolific jammer The 4Closer.
With a preseason full of extensive training, advanced strategic coaching from Demanda Riot and Coach Pink Ranger, and a season warm up bout, which took place March 13 in Sacramento, versus the Sacred City Derby Girls, the Richmond Wrecking Belles are ready to dominate in 2017. They play the Berkeley Resistance in a closed bout at BAD HQ on April 22 which fans can follow along via BADtv or Twitter. Come out and support the Wrecking Belles at their next public bout on June 3 versus the San Francisco ShEvil Dead at the Station. Check out the discounted BAD Deal which gets you general admission access to all remaining games at the Station (Oakland) AND Champs at the Craneway Pavilion (Richmond).
---
#000 Demanda Riot || #1 Liza Machete || #4 Mad 4 Gravy || #8 Snide Boob || #11 Lex Pistol || #12 T. Wrecks || #13 Dita de los Muertos || #20 Eva Menace || #22 Jirsa || #44 The 4Closer || #67 Rose Villain || #323 Chiquita Bonanza || #747 Snakes Anna Plane || #925 Sterling Archer