The second bout of Bay Area Derby's 2019 season saw the Berkeley Resistance, armed with a fresh roster of new faces amongst longtime teammates, take on the Oakland Outlaws, the 2018 Champs and season opener winners. With teams this evenly matched, it was anyone's game. The buzzing energy of the crowd gave way to rousing cheers that rang through the Palace of Fine Arts as the skaters took to the track, with everyone excited to see how these teams would compete and who would take home the win.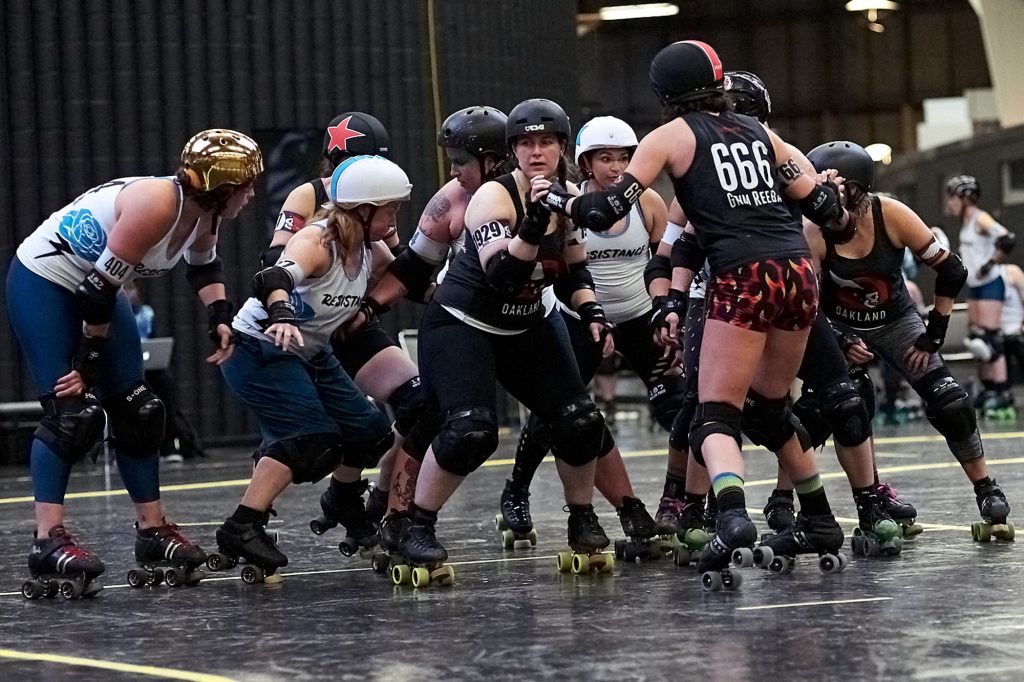 The first jam pitted Oakland's Legs//Cité against Berkeley's newly-transferred Kate Silver, who made her new teammates proud with a two-pronged attack of hard hitting and strategic footwork to push her way to lead jammer status. Slam Chowder was up next and gained lead for her team again with some well-placed hits to clear her path through the pack. The next lineup of blockers, each determined not to give up any points, pushed both jammers backwards once the whistle blew. Berkeley's Big Perm broke away to land several quick, hard hits on the opposing blockers, and created just enough space for the lightning-quick jammer Hell or High to dart through and take the lead. Berkeley jammer Harmageddon continued Berkeley's streak with a soaring apex jump, but received a penalty when her skate grazed the inside of the track upon landing. This gave Oakland jammer Blood, Sweat, and Ears the opportunity to score the first points of the game for their team.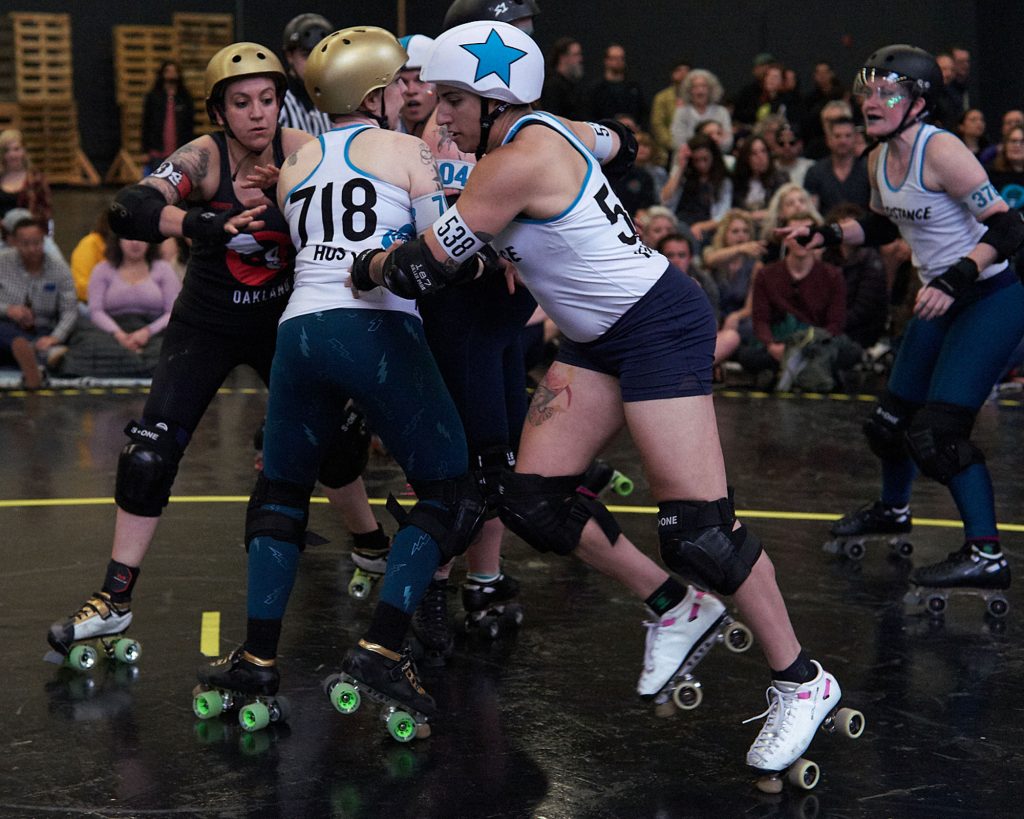 Oakland continued to catch up with Berkeley during the remainder of the first half, switching to more deliberate offense once an opposing jammer had been caught by a wall of Oakland blockers – among them the impenetrable Hieronymus Bash, Ripley Effect, and Lethally Blonde. Veteran skaters Grim Reeba, Esteemed Bun Bun and Eris Jordan, along with brand-new Outlaw Maya, all found opportunities to break up even the most powerful Berkeley formations. The first strategic star passes of the game came from Berkeley to pivots Red Card and The Boonvillain, who each took their jammer's helmet cover and raced off to start scoring points. By the end of the first half, Oakland led 71-45.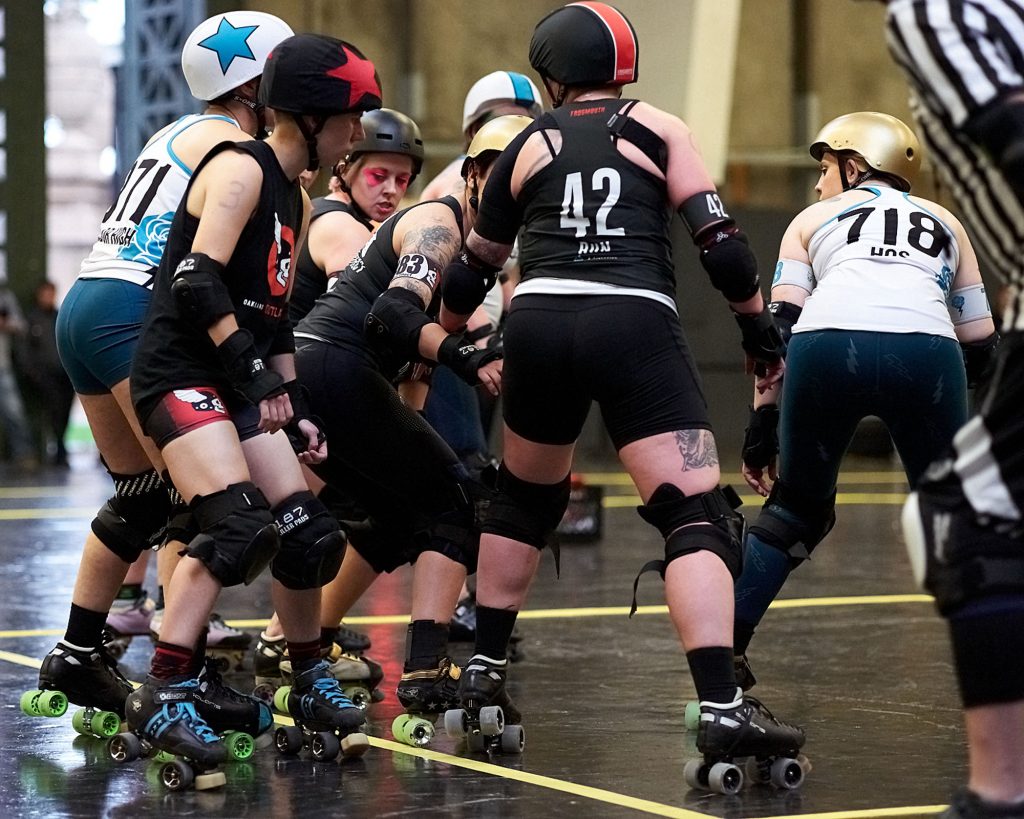 The second half saw a breakout-success power jam for first-time Oakland jammer Peter Panic, who drew roars from the crowd as they racked up points for their team. Berkeley responded by upping offensive moves from Dixie Did It, Red Card and Knockout, while tightening up their defensive play with HOS, Missy Misdemeanor, Psi, and Attila the Hut locking together to create obstacles that even the strongest Oakland jammers had trouble breaking through – although sneaky ones like Snatch managed to dash around on the outside line. Both teams continued to fight head to head with Oakland eventually pulling away and ending with a well-deserved win, 178 – 118.
Bay Area teams return to the Palace of Fine Arts on July 13th, with the Resistance taking on the San Francisco ShEvil Dead. It's not too soon to grab your tickets and see who will emerge victorious!
FINAL SCORE
Oakland Outlaws: 178
Berkeley Resistance: 118
Photography by Mark Nockleby.