The new season brings lots of exciting additions, changes, and a whole lotta NEW!
New Year, New Venue
All of our home team bouts will be at The Venue at The Palace of the Fine Arts in San Francisco. Mark your calendars for March 24, April 7, July 21, and August 25! Tickets will go on sale soon through the Palace of the Fine Arts.
New Teams
Due to our member numbers decreasing over the years and after much discussion as an organization, we decided to consolidate to three home teams—San Francisco ShEvil Dead, Oakland Outlaws, and The Berkeley Resistance. Full explanation can be found HERE.
We took this opportunity to change things up even more by reshuffling skaters on all three teams! So now some of your favorite Outlaws are now among the walking dead, some Belles have traded their wrecking ball for another style of Resistance and some Dead have rejoined the living as hippies and Outlaws. Team rosters (and photos coming soon) can be found on the team pages:
New Logos
New venue, new teams . .  the fun doesn't stop there! For 2018, our Creative and Marketing teams rose to the challenge of redesigning team logos. We wanted to build a set of strong, unique home team emblems with a unified look and feel across all three. Which is your favorite?
New Recruits
20skateteen brings a lot of new faces! After October tryouts, we added 20 new skaters to the league. We have also received some amazing transfers from across the country – Alaska, New Jersey, Massachusetts, Florida to name a few.
We also hosted a "New to Derby Night" where anyone interested in learning about roller derby was welcome to come speak with skaters, officials and coaches and have all their questions answered. Our turnout was superb!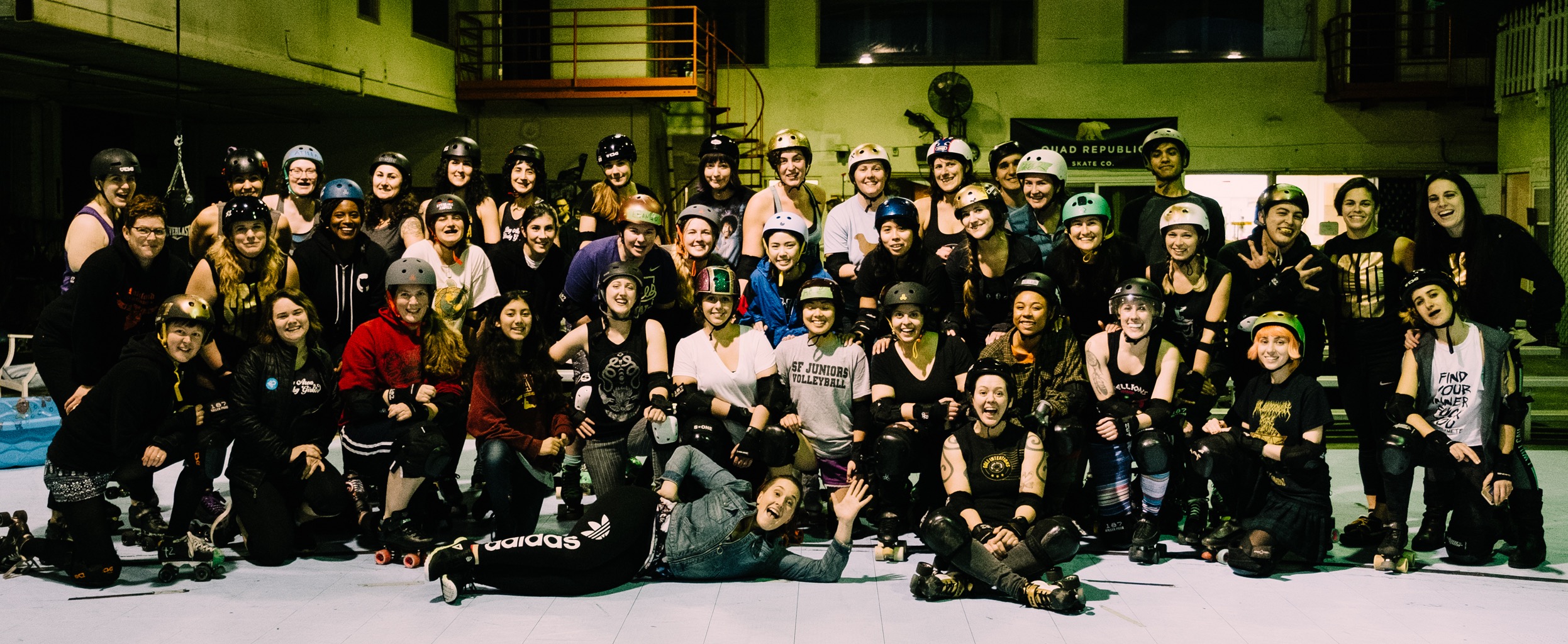 Since the event, we have had over 15 people join our recreation league called The Reckless Rollers. They are now being evaluated to transfer up to the league.
Keep an eye out for all of this fresh new talent.
New Programming
Last season we started two new programs: BAD Dudes—a weekly drop-in session for all genders including male-identifying skaters and The Golden Nuggets—a series of junior roller derby training for youth ages 8-17. We are continuing to expand those programs. Look for announcements throughout the season regarding both!
BAD Park
When we're not skating in circles on a flat track, you can find many BAD skaters doing flips, twists, grinds, stalls and slides on ramps, too. BAD recently teamed up with Skate Like A Girl, a unique local and international organization to provide a safe space for girls and women (cis, trans, female-identifying, and genderqueer) to promote their personal growth, athleticism, leadership and empowerment through skateboarding and roller skating programs. We are currently raising funds to help pay for supplies to build and maintain the BAD Park. Please visit our GoFundMe page.
We are so excited for the new adventure 20skateen will bring us and happy you're with us along this journey!