In a rematch of the 2015 BAD League Championship game, the Oakland Outlaws faced a depleted Berkeley Resistance squad and came away with a resounding win thanks to their veteran blockers and an overworked Berkeley jammer rotation.
At the first whistle, Oakland opened the scoring with #33 Vee putting up 14 on her way to being the game's high scorer with an impressive 82 points. Berkeley got on the scoreboard soon after but then their offense went cold for eleven jams allowing Oakland to go on a 32-0 run. The Resistance responded with two strong jams from #888 Brawllen Angel and #1217 Chasing Amy, but were unable to gain ground on the Outlaws. Berkeley would settle at 63 points to Oakland's 106 at the half.
The real story for Berkeley was their diet roster of only 11 skaters who labored valiantly to match the Outlaws horde. #86 Gretchen Vomette skated in ten of the first eleven jams as well as the Resistance captain, #405 Dirty Lil Trick, skating in nine consecutive jams at one point. Berkeley's offense struggled to stay even with Oakland in the second half with reserve jammer #434 Shenghis Khan getting caught up in a whirlwind of penalties over three jams leaving Oakland jammers #10 Huck Sinn and #333 DreadZilla able to capitalize. Stifling defensive blocking from Outlaws veteran #7 Murderyn Monroe and relative newcomers #410 Aims to Maim and #29 Dual Hitizen put Oakland in the driver seat after halftime. The most recent addition to the Outlaws jammer line up, #99 Pizza, was able to break off an 18 point jam – her share of 99 total second half points for the Outlaws.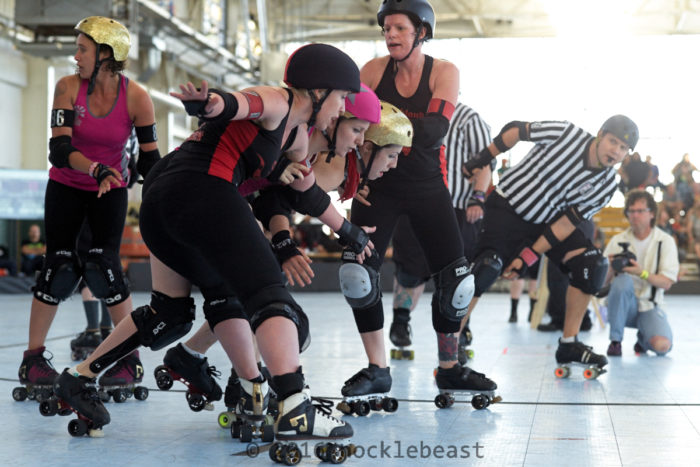 Ultimately, Oakland outlasted Berkeley, taking control of the game by grabbing Lead Jammer status 25 times out of 43 total jams and taking advantage of a Resistance corps that barely had time to catch their breath in the second half.  The final score was Oakland Outlaws 205 to Berkeley Resistance 168. With their win the Outlaws go to 2-0 for the season. Berkeley adds a loss to their one win and now stand 1-1.
Both of these teams have different opponents on July 23. For the first bout, Berkeley will face off against the upstart zombies of the San Francisco ShEvil Dead. In the second bout of the evening, Oakland will go up against their longtime rivals the Richmond Wrecking Belles.