2018 Bay Area All Stars Team Photo by Lucas Saugen.
2019 Bay Area Derby Travel Team
888 B.A.
404 BIG PERM
9 BLOOD, SWEAT & EARS
1138 BRICK HOUSER
42 BUN
405 DIRTT
5 DISCO BRAWL
23 ERIS JORDAN
666 GRIM REEBA
718 HOS
538 KATE SILVER
0 K.O.
1395 LEGS//CITÉ
7 MURDERYN MONROE
1979 NEURALIZE HER
27 RED CARD
483 RIPLEY EFFECT
13 STEF MAINEY
128 THE BOONVILLAIN
Our Travel Team is made up of skaters who play for the All Stars (WFTDA Charter), Team Gold, or a little of both. These individuals compete on an international level against other WFTDA leagues and represent the skill, heart, drive, and commitment of Bay Area Derby.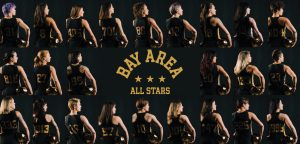 2018 All Stars
Amy Avishay – April Bloodgate – B.A. – Banshee – B.B. Basher – Big Perm – Cassie Beck – Dani Rueda – Dirty Lil Trick – Dreadzilla – Esteemed Bun Bun – Eva Menace – Frightmare – Gretchen Vomette – Hines – Huck Sinn – Illuminaughty – Kimfectious – Legs Cité – Mad 4 Gravy – Murderyn Monroe – Ovary Z – Pizza Party – Red Card – Sinnabar – Skatelyn – Smother Mary – Snakes Anna Plane – Snatch – Stef Mainey – Sterling Archer – Tifa Knoxhard
Final WFTDA Ranking: 21st
Final Travel Team Standing: 4-9
Stats available at Flat Track Stats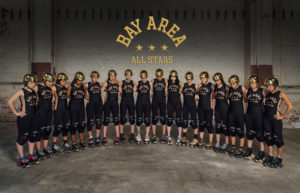 2017 All Stars
April Bloodgate – Brawllen Angel – Cassie Beck – Dani Rueda – Demanda Riot – Dirty Lil Trick – Dreadzilla – Dual Hitizen – Esteemed Bun Bun – Eva Menace – Frightmare – Gretchen Vomette – Illuminaughty – Lex Pistol – Liza Machete – Mad 4 Gravy – Murderyn Monroe – Pomba – Pressure Cooker – Red Card – Skatelyn – Stef Mainey – Sterling Archer – The 4Closer
Final WFTDA Ranking: 13th
Final Travel Team Standing: 5-1
Stats available at Flat Track Stats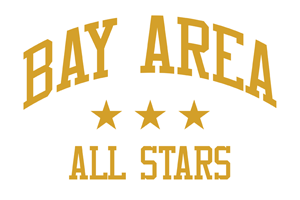 2016 All Stars
Ames to Maim – April Bloodgate – Biggie Brawls – Brawllen Angel – Chasing Amy – Demanda Riot – Dirty Lil Trick – Domme Juan – Dreadzilla – Dual Hitizen – Erma Gerd – Esteemed Bun Bun – Eva Menace – Frightmare – Gretchen Vomette – Huck Sinn – Illuminaughty – Korn Holy-O – Lex Pistol – Liza Machete – Mad 4 Gravy – Mean Burrito – Murderyn Monroe – Permab& – Pomba – Pressure Cooker – Skatelyn – Sterling Archer
Final WFTDA Ranking: 20th
Final Travel Team Standing: 4-5
Stats available at Flat Track Stats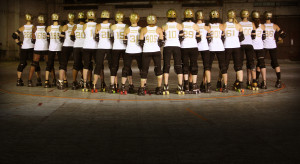 2015 All Stars
Amanda Jamitinya – Ames to Maim – belle RIGHT hooks – Brawllen Angel – Demanda Riot – Dirty Lil Trick – Dolly Rocket – Dual Hitizen – Eva Menace – Fluezy – Frightmare – Gretchen Vomette – Huck Sinn – Kid Ace – Liza Machete – Lulu Lockjaw – Murderyn Monroe – Nurse Lithium – Pressure Cooker – Skatelyn – Skrappie – Sweet Sherry Pie – Steely Jan
Final WFTDA Ranking: 9th
Final Travel Team Standing: 7-9
Stats available at Flat Track Stats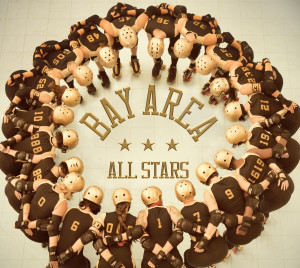 2014 All Stars
Amanda Jamitinya – Baron Von Punchausen – belle RIGHT hooks – Brawllen Angel – Bricktator – Chantilly Mace – Demanda Riot – Dolly Rocket – Dorato – Fatal Dreidel – Huck Sinn – Kid Ace – Kristi Yamagotcha – Liza Machete – Lulu Lockjaw – Mean Burrito – Murderyn Monroe – Nock Nock – Skatelyn – Slaybia Majora – Steely Jan
Coaches:G$, Taxi Scab, Miss Moxxxie
Final Travel Team Standing: 15-1
Stats available at Flat Track Stats
2013 All Stars
Amanda Jamitinya – Baron Von Punchausen – belle RIGHT hooks – Brawllen Angel – Bricktator – Chantilly Mace – Demanda Riot – Dolly Rocket – Dorato – Huck Sinn – Ivy Profane – Kid Ace – Killer V – Kristi Yamagotcha – Lulu Lockjaw – Murderyn Monroe – Nock Nock – Razor Grrl – Sherlock Home Slice – Slaybia Majora – Steely Jan
Coaches:Adam Collider, Liza Machete
Final Travel Team Standing: 11-3
Stats available at Flat Track Stats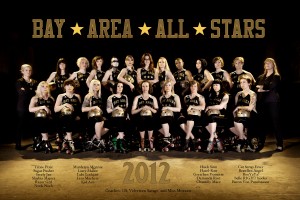 2012 All Stars
Baron Von Punchausen – belle RIGHT hooks – BooYaYa! – Brawllen Angel – Cat Scrap Fever – Chantilly Mace – Demanda Riot – Gretchen Vomette – Hazel Raw – Huck Sinn – Ivy Profane – Kid Ace – Kristi Yamagotcha – Liza Machete – Lulu Lockjaw – Murderyn Monroe – Nock Nock – Razor Grrl – Shannon Ball – Slaybia Majora – Steely Jan – Sugar Pusher – Trixie Pixie – Lusty Malice (injury contract)
Coaches:G$, Velveteen Savage, Miss Moxxxie
Final Travel Team Standing: 9-4
Stats available at Flat Track Stats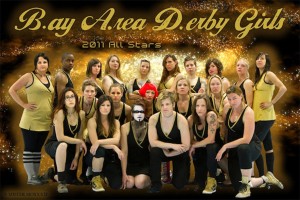 2011 All Stars
Angel Maker – Astronaughty – Aunti Christ – belle RIGHT Hooks – BooYaYa – Brawllen Angel – Chantilly Mace – Demanda Riot – Freddie Bruiser – Friskie Meow – Huck Sinn – Ivy Profane – Little Miss Masochist – Liza Machete – Lusty Malice – Murderyn Monroe – Nock Nock – Psychoserapissed – Razor Grrl – Slaybia Majora – Sugar Pusher – Taxi Scab – Trixie Pixie – Velveteen Savage
Coaches:G$, and Miss Moxxxie
Final Travel Team Standing: 8-5
Stats available at Flat Track Stats